When you create a blog or a website, one of the first dilemmas you encounter is deciding how many languages it should be in. If you want your business to have a global reach it seems clear that the content of your website should be in English. But what if your native language or that of your target audience is not English? You'll probably consider having your website in a language other than English or adding more than one language to your website.
For example, when we created our startup we thought our target audience could be anywhere in the world. So we had no doubt that English had to be the main language of our website. In turn, we are located in Barcelona and our native languages are Catalan and Spanish. So it seemed absurd not to add at least Spanish in our website, thus opening up the possibility of reaching a potential non-English speaking audience.
WordPress Languages
As you may already know, the "official" WordPress language is English. In other words, its user interface and that of almost all plugins and themes is, by default, English. But in order for WordPress to have a global reach, it must be translated into as many languages as possible. For this purpose, the WordPress community established the Polyglots group.
Polyglots is currently made up of 203 teams of volunteers in 56 locations who are dedicated to the translation of the WordPress Core, themes, and plugins.
As you can see in the image above, translating WordPress into different languages is a huge project, as languages also have variants such as, for example, English from Australia, Canada, South Africa, UK, and US.
So, clearly some work has been done to have WordPress in languages other English. But what if you want a multilingual site? Are all the available translations complete? Let's answer these questions one at a time.
Set The Language of Your Website
Let's go to the simplest case: your native language is, for example, Spanish and you want to have everything in this language.
Indeed, thanks to the WordPress Community Polyglots team, establishing that the language of your WordPress should be Spanish is very easy. In Settings » General you find the option to define the Site Language :
Once the language of your site is selected, the dashboard automatically changes to the selected language. In the previous image, I've selected the Spanish, and this is the result I get:
Notice that the language setting I just presented is global. But it can also be tweaked per user.
Once you have changed the language, you will not only see the Dashboard in that language, but also all the plugins you install that are translated will be seen in that language.
Nelio Content
I'm so happy about Nelio Content that I will sound like a payed advocate… but here's why you'll love it: it works as promised, its auto-scheduling feature is top-notch, Nelio's value for money is unmatched, and the support team feels like your own.
Unfortunately, Not Everything is Translated…
Unfortunately, not all plugins available in the directory are fully translated into all languages. If there's a snippet that hasn't been (or couldn't be) translated into a different locale, then it'll be shown in English.
What about language variants? Imagine you want to use Spanish (Argentina) and it has plenty of strings missing. As I just said, they'll all be shown in English…
But all those strings are translated in Spain's Spanish locale! Wouldn't it be great if you could tell WordPress to use more than one locale?
A Solution
At WordCamp Europe 2019 I had the pleasure of personally meeting Pascal Birchler, from Switzerland. Pascal is a WordPress Commiter that currently works as a Development Engineer at Google. He has always been very concerned and active in everything related to the preservation and maintenance of languages within WordPress, even creating the Polyglots team of the Romance language.
Additionally, Pascal, created the Preferred Languages plugin that precisely solves part of the previous problem. In other words, it allows you to select more than one language so that, if a translation is missing in the first language, it looks for a translation in the second language (and so on).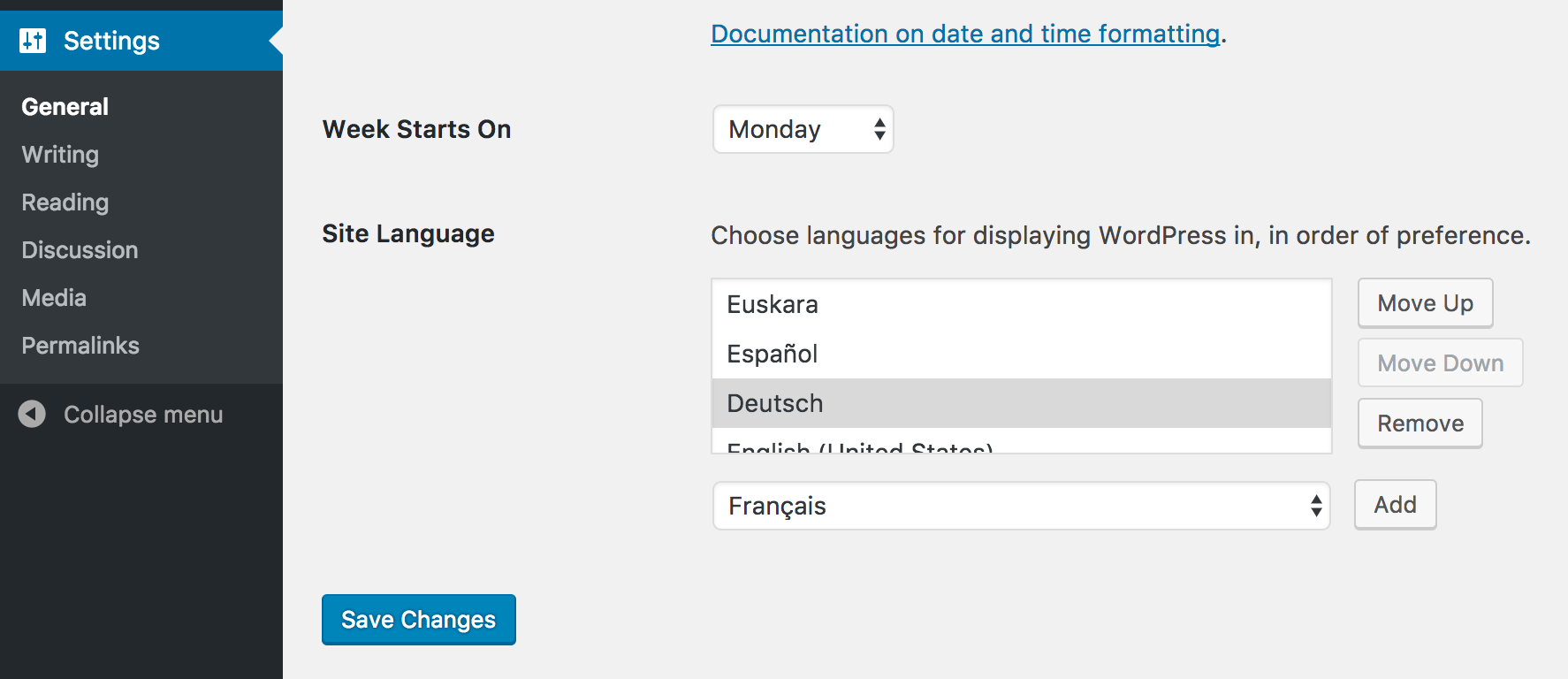 Create a Multilingual Website
But this isn't the end of all problems. Making the decision to create our multilingual website, although it may seem natural and obvious, involves adding extra complexity to the web and additional work to generate and maintain its content. So, if this is also your case, before deciding if you want to have your multilingual website, I recommend that you read its advantages in disadvantages.
In a previous post, David shared with us two alternatives to convert your website into a multi-language one. One is to have a single site and install a multi-language plugin, such as WPML or Polylang that allow you to manage translations of pages and posts in several languages. The other (which, by the way, is the one we've implemented in this website) is to have a multi-site website with two sites, one in Spanish and one in English.
More problems
Obviously, having a multi-language website multiplies the problems that I mentioned before. On the one hand, there is the issue that, perhaps, there are no translations of your plugins or theme in any of the selected languages, so there will be parts of your interface that are always displayed in English.
On the other hand, using a multi-language plugin adds more complexity to your website and your database. This, which doesn't seem a problem at first, might result in unexpected incompatibilities between plugins.
If you also want to see more alternatives and settings on how to set up several languages, another interesting article is the Ultimate WordPress Multilingual Guide – How We Launched 12 Languages by Kinsta.
Conclusion
As you can see, although we have the great Polyglots team within the WordPress Community, WordPress is still a platform that does not offer us a comfortable and unique solution to have a multi-language website. We have several plugins that solve many of the problems we are encountering, but it'll be a while until WordPress becomes a fully multilingual platform.
Featured image by Frankie Guarini on Unsplash.