2021 is already gone and we're at the beginning of a new year. 2022 is yet another year full of opportunities and possibilities. On a personal level, we only ask for health and happiness for everyone we love. On a professional level, we want to have a good time while seeking success. So what do we want to do during the next 12 months, you ask?
Goals
Let's not beat about the bush and get straight to the point. Here's our list of SMART goals for 2022:
Publish a weekly post in our blog, both in English and Spanish.
Launch 10 new A/B tests throughout the year and include them in our split test catalogue.
Successfully close some of the deals we're currently working on regarding Inlexa.
A 20% income growth.
Get 2.000 users on Nelio Popups free with a 2% conversion rate to premium.
Use TypeScript and React Hooks in Nelio Content and Nelio A/B Testing.
Publish (at least) one new version of Nelio Content that features some of the functionalities and upgrades our users requested.
Do the same with Nelio A/B Testing.
Propose, create, and launch a completely new MVP.
Go back to the office once or twice per week.
Why these goals and not others? What do we plan to do to achieve them? Keep reading to know the answer 😉
Marketing
From the very beginning, we've relied on inbound marketing and content hacking strategy to promote our WordPress plugins. This means our blog plays a key role in our marketing strategy: most of our users know who we are thanks to the blog itself and the WordPress plugin directory.
In 2021 we took a bold step and moved from two posts a week to just one. It was risky, but in the end it has proven to be the right decision: writing fewer (but still good) posts didn't have a negative impact on our views and freed up some precious time. We were able to remain quite active on social media thanks to Nelio Content and we had more time to work on new products and ideas, we improved those we already had, and we had time to support our customer and user base effectively. All of this, with a blog that still shared plenty of useful and interesting tutorials, WordPress news, split tests, and more!
On the other hand, Ruth will continue to push forward Inlexa, a tool we designed to help companies and individuals to be more inclusive and diverse in their communications. Unlike our other products, which we marketed online solely, we're contacting our prospects directly to let them know about Inlexa and educate them about the necessity of inclusive writing.
We're already working on several deals with a few prospects who are currently testing the tool. If everything follows the desired course, we will successfully close them this year. Furthermore, as Inlexa is a tool that fits into the Sustainable Development Goals of The UN, specifically in ODS 5 to achieve gender equality and empower all women and girls, we will continue to bet on it, making Inlexa known at events or presenting it to awards that are committed to equality and inclusiveness, as was the case of the UU Prize 2021.
So, if you write in Spanish or Catalan and would like to use this tool on your WordPress site, or if you know someone who might be interested in a tool like this, take a look at our WordPress plugin.
Nelio A/B Testing
I was very impressed by the quality of this plugin, how easy it was to set up, and the outstanding support Nelio provides. I highly recommend Nelio A/B Testing.
Products and Ideas
Nelio Popups
We recently launched a new plugin for WordPress: Nelio Popups. We were tired of cumbersome and convoluted plugins for creating popups that never really matched the look and feel of our site, so we decided to create a better alternative. Nelio Popups is an intuitive popup plugin that leverages the power of Gutenberg to design your own popups. Use all your blocks and block patterns effortlessly!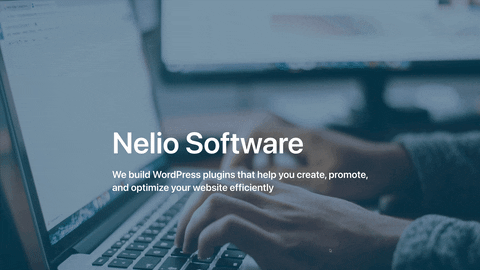 In WordPress.org you can already find the free version of Nelio Popups. We're currently working on a premium version that will include a few more features and options to better customize when and how a popup should be opened. If you want to get the most out of this plugin and support our team, stay tuned!
Nelio A/B Testing, Nelio Content, and Inlexa
Last summer we had the opportunity to work with an intern for a couple of months. As a result of this experience, we realized that, in the long run and as the company grows, we'd benefit from a type-safe and thus better-documented code base, which was precisely one of the goals we had last year: we wanted to move away from plain JavaScript and Higher Order Components and use TypeScript and React Hooks. We never really had the time to do so, but we've gained experienced and momentum with all the new tools we developed in 2021, so I hope we can apply this experience into our best-selling plugins.
Not only do we want to improve the code base of our plugins, but we also want to evolve them to keep up with our users' demands. Every now and then, a user gets in touch with us and requests new features and functionalities that would make their life easier. We strongly believe that your feedback and ideas are the best way to move a product further, and we'll be implementing these features during the upcoming months. A couple of examples include advanced schedule settings in Nelio Content and new test types in Nelio A/B Testing. Oh and, of course, we'll keep an eye on WordPress' FSE (Full Site Editing) and make sure we're fully compatible with it.
Regarding Inlexa, we're currently waiting for our prospect's feedback to plan our next moves. Luckily, we're ready: Inlexa's architecture enables a continuous improvement of its inclusivity rules, the UI of all its addons can be easily extended and adapted, and our users will be able to create their own solutions using a custom API. Let's see where destiny takes us!
What else?
Another thing we're looking forward is going back to our office. Since the covid pandemic started, we've all been working remotely from home. Sure, we talk to each other daily, but we miss the in-person meetings to work on new ideas and enjoy each other's company. As soon as the situation allows it, we'll try to meet once or twice a week.
Finally, we'll keep brainstorming new ideas and working on those that we think might be the most helpful. We have a lot of work ahead already, but we like new challenges and we want Nelio to never settle. We know some of our ideas might not succeed (it's already happened), but there's so much to learn from them that we'll keep pushing. We're lucky we've been given the opportunity to decide our future and either fail or succeed based on our will and determination (and maybe some luck too), so let's enjoy it.
Thank you all for following us, supporting us, and helping as grow. We don't know what 2022 will bring but, whatever it'll be, we'll work as hard as ever to get the most out of it!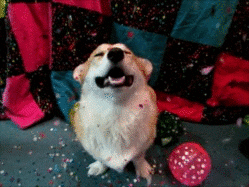 Featured Image by Madhuri Mohite on Unsplash.