Writing regular blog posts is not easy. You need time to find ideas to write about, write the posts and promote them… And, surely, you often question whether all this is effective or not. For your peace of mind, content marketing is still working: according to a survey carried out by Orbit Media Studios of more than 1,000 bloggers, when asked whether blogging works in 2022, 80% of respondents answered that blogging provides "some results" or "strong results."
Still, to achieve the desired impact, there is a tendency to dedicate more and more resources to ensure that the posts are of a high quality. For this reason, today we bring you a comprehensive checklist you should complete before publishing any post to make sure that you haven't left anything out.
Look for Ideas Related to Your Blog
The biggest problem that all of us who write a blog usually have is deciding what we are going to write about next. With the aggravating factor of being a recurring problem, since every time your editorial calendar is empty you have to refill it with new ideas.
In this blog we have previously talked about different tricks to find ideas. Surely one of the most effective is to use an RSS reader that allows you to have lists of your favorite blogs, which do not necessarily have to be from your competitors.
Make sure you are up to date with what is being published on other websites of interest and write about related topics with your personal knowledge and vision.
Strategically Plan What to Talk About
Once you have a set of ideas to write about, plan them in a calendar with a strategic vision. Take into account your objectives, what topics are trending, the diversity of products and services you offer, how these services and products fit better or worse at a certain time of year, etc. Planning all posts three months ahead not only allows you to have this strategic vision, but also saves you the work of rethinking what to write about every time you have to work on a new post.
If your calendar is also integrated into your WordPress, you know that it will not escape from there.
Write an Outline
If you create a good outline of the post that you are going to write, you already have the roadmap of what you are going to tell. You will write faster and it will be much easier for you to follow the thread. As I'm writing this paragraph, I've already written all the headlines for the following ones. This way, the hardest part, thinking what to write about, is already done. I just have to complete each of the different points and add the images and links that I think are necessary.
Nelio Content
I'm so happy about Nelio Content that I will sound like a payed advocate… but here's why you'll love it: it works as promised, its auto-scheduling feature is top-notch, Nelio's value for money is unmatched, and the support team feels like your own.
Add Keywords
A blog post is not an advertisement. It is not about being full of words that distort the naturalness of reading. In fact, if the topic of your post is related to the objectives of your site, surely the text will already include the keywords you want to highlight on your website. Even so, check that in the post there are some of the keywords in the title, in a header, and/or in the tags, etc. You will help search engines and readers better understand what the content of your site is about.
Use Headers
It's hard to read a messy, disorganized post. Make life easier for your readers who, in addition, are increasingly in a hurry and don't want to waste time reading. Use H2 and H3 type headers so that they can, at a glance, know the content of your post. Adding a table of contents, like the one at the top of this post, will allow readers to access the specific information that interests them most.
In addition, these headers are also useful for search engines to understand the content of your posts. Remember: we're looking for the efficiency of our posts, right?
Take into Account the Length of the Post
On this topic, you will find an endless number of published posts. A blog post is not a couple of paragraphs as if it were an advertisement. But even if there is no single consensus, the conclusion you come to is that the more you write, the better. Still, the length is not everything: how interesting and concise a post is will be much more decisive. You know… "brevity is the soul of wit."
If you're curious about how the length of a typical blog post has changed over the last 8 years, here's the graph: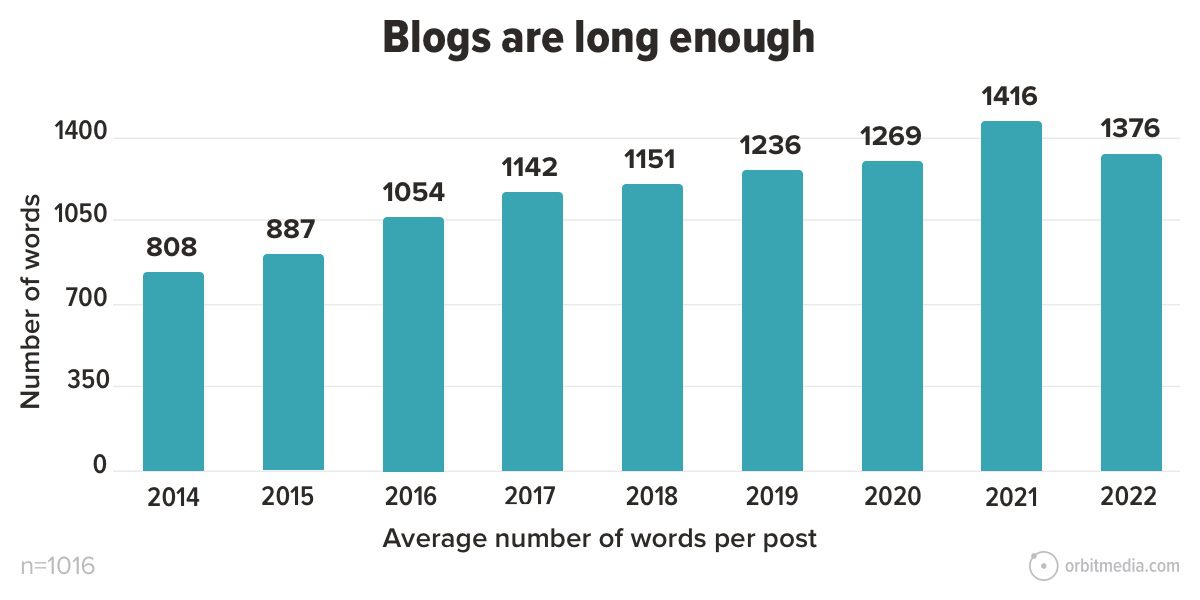 Add Links to Other Blog Posts
Do you have blog posts with content related to what you're writing now? Create internal links in the post you are writing. This way, your readers will find more useful content that will give more support to the points you are making. In addition, links also help search engines identify what your posts are about and which ones are more important. If a post receives a lot of links, this tells search engines that it is important and increases the likelihood that it will rank well in the search results.
Add Links to Other Blog Posts
In the previous point we have already mentioned that links serve to support your content. Linking your posts to other sources of information will not take away credit from yours, on the contrary, it helps support the validity and accuracy of the information you are providing.
If links to your own posts can help search engines rank them, links to third-party posts can also help associate your blog with quality sources.
Add Images and Graphics
Adding images and graphics to a post achieves several goals: make it more attractive, communicate more directly and immediately (a picture is worth a thousand words, remember?), and let the reader breathe a little from reading.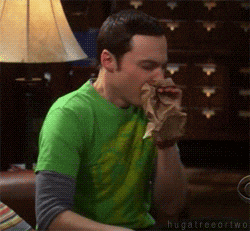 The images and graphics may have been created by yourself from screenshots or with an image editor. And you can also have downloaded them from an image or GIF bank (15 websites where you can find free images to use on your blog).
Optimize the Size of Images
The quality of the images and graphics that you show in your posts must be up to the quality that you want to show in your blog. The size should be appropriate. If they are too big, they can take too long to load, negatively affect the reading experience, and can cause search engines to penalize you.
Decide the maximum size of the images that you are going to upload on your website. If it is not a web of art, architecture or similar, surely a size of 1,200 pixels wide will be more than enough. And even after defining the maximum size, compress it with an image compressor, either using a plugin such as EWWW Image Optimizer or directly uploading it to an image compression website such as Compress JPEG or Compress PNG.
Label Images Well
The images you display in your posts may also be indexed by search engines. To do this, fill all fields in the media library: alt text, title, caption, and description.
This way, all the images on your website will be more accessible.
Add Meta Information for SEO
Do you want to optimize the ranking of your posts as best as possible? Install one of the 7 essential plugins to position your blog and add the snippet to each of your posts and pages, that is, the title and description that you want Google to display on its results page.
Review all the Content
Before publishing a post, if someone on your team can review the post, rest assured that the quality will improve. However, if you are the only person blogging, wait a day before going through the content of your post one last time with a fresh mind. It won't take much time, but this little extra effort will save you from making corrections that you probably could have avoided.
Prepare the Promotion of the Posts Before Publishing Them
Once you have written the content of a post, you already have the most complicated part of the job done. Now all that's left is promoting it. Prepare a whole set of promotional messages for the post on social networks to be published at the time the post is published and also schedule those tweets that you want to be published afterwards. If you have all this work done beforehand, you won't have to worry about anything else by the time the post is published.
Use Tools that Make Your Job Easier
Reviewing each of the points mentioned so far is very easy if you use tools that simplify this work for you. The Nelio Content plugin, developed by us to help you in all these aspects, offers you the following features:
Feeds
Feeds is a feature that allows you to list your favorite blogs and view their latest posts. From any article, you can create a post idea to write about as an unscheduled draft. In addition, the source that suggested that idea will be saved as a suggested post reference so that you can easily refer to it or mention it when writing the post.
Editorial Calendar
With Nelio Content's editorial calendar, you can view, add, move ,and delete posts, social media promotion messages, and the tasks involved in writing your posts at all times. This way, you can view, manage, and control all editorial work from a single calendar in your WordPress.
Integration with Social Networks
As you have already seen in the previous image, Nelio Content allows you to schedule all the messages that will promote a post at the time of publication and in the future. You can share your content manually or even automatically on Twitter, Facebook, LinkedIn, Tumblr, Telegram, Instagram, Google My Business, Pinterest, TikTok, and Reddit.
Quality Check
Finally, Nelio Content incorporates a post analysis so that you can review each of the points shown in the following image:
This way, before you schedule or publish a post, you know that your checklist items have been reviewed and nothing is missing.
Conclusion
Writing posts is surely even more expensive than the statistics tell us. If you want to get quality results, don't forget to check the points mentioned in this post. And if you use a tool like Nelio Content, controlling the quality of your posts will be much easier.
Featured image by Nick Morrison on Unsplash.