Although there is no magic formula, there is a set of activities that can help you get more visitors to your website (or at least, we can say that they have worked for us).
Before starting, I'd like to emphasize that we have designed this set of activities as part of our content marketing strategy always focused on growth.
We always try to be creative, try new things, and keep an eye on the latest developments. But in turn, we use analysis to make decisions supported by reliable data. And above all, we seek to be efficient since we know that time and money are our most valuable resources.
Nelio A/B Testing
I was very impressed by the quality of this plugin, how easy it was to set up, and the outstanding support Nelio provides. I highly recommend Nelio A/B Testing.
Write About Topics That Generate Interest
Obvious, isn't it? If you want to increase traffic to your website, write about what your potential audience is interested in. Easy to say, but not so easy to implement.
How do we generate attractive ideas? Although we don't rule out any source of inspiration to generate ideas, some of the things that work best for us are:
We take note of the questions that our own clients ask us.
We use Nelio Content Feeds that allows us to view the RSS feeds of our favorite blogs directly in your WordPress.
We recycle ideas that we know have already worked (see below).
We have a list of types of posts that generate more traffic.
Whenever an idea that comes up, we write it down in our Nelio Content calendar to schedule a post about it.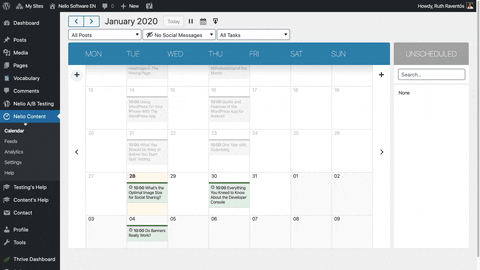 Create Headline A/B Tests
In order for visitors to arrive, we have to make our contents go viral. That means we have to be creative and able to create headlines that arouse the curiosity of our audience (avoiding click-baits if possible, of course).
An alternative that many of our clients also use is to create A/B headline tests. An A/B test of WordPress headlines is a type of test with which you can test different versions of the title, excerpt, and featured image of a post and find out which combination attracts more visitors and makes them click on it to read the post.
Never Stop Writing
If you want Google to discover what you do and gradually position your website in the best positions in the search results, you must generate content on a regular basis. Our motto is: be constant, persevere, do not give up, and continue.
How do we manage to publish two posts per week, taking into account that we develop and maintain plugins, manage the company, participate in WordCamps, etc?
The key for us is to plan ahead in our Nelio Content calendar the posts that will be published in the future based on the ideas that we have previously generated. This gives us the flexibility to organize when to write them and, I assure you, it's much easier to start writing when the topic has already been decided in advance than if you have to start thinking about what to write next.
Take Care of The Quality of Your Posts
Remember that Google also takes note of the bounce rate of your posts to rank them better or worse. So if you want to get more audience you have to create high quality content. Here are Toni's recommendations for writing quality content.
Apart from the quality of writing, the worst thing that can happen to your content is it being incomplete. Make sure your posts are not missing any of the following elements: categories and tags, featured image, excerpt, internal and external links, and all meta-information necessary to achieve better SEO.
Luckily, there are WordPress plugins that help you not forget anything when you write a post.
Promote Content Efficiently
Social networks are a channel that you should not ignore to increase the number of visitors to your website. So, don't think that once you have written a post your work is done. Exploit this channel as much as you can: communicate on all social networks that you have published that new post. On Twitter, for example, a single tweet will not be enough.
This, if you have to do it by hand in every social network, can take you quite a while. But don't worry, there are tools that can help you make the entire promotion process practically automatic. We've calculated that automating the promotion in social networks with Nelio Content has saved us 15 hours of work per month.
Below I show you a video of how Nelio Content integrates the promotion of your posts in different social networks.
Analyze The Impact and Re-Promote and Reuse the Content that Works
I've told you before that one of the sources for generating ideas about what to write is by reusing posts that work. Analyze the impact of your content: use Google Analytics or any other tool to find out what content of your website has been most successful lately, has been shared more on social networks, or has generated more comments, and focus on it.
Conclusion
When your marketing budget is tight, the best way to get your content to appear in search engines and increase the number of visits to your website, in our experience, is to follow the recommendations that I have explained in this post. But we'd love to hear what works best for you and try new alternatives! So please don't forget to leave us your recommendations in the comment section below 😉
Featured image by Nicholas Green on Unsplash.