The last thing you want is that when a visitor arrives at your website, they leave because they don't like what they see. You have to makes sure that your website is as attractive as possible in both design and content. Knowing the latest trends in design will be useful to define the design requirements of your website, as well as to generate ideas about what types of A/B tests you can carry out to ensure your visitors like your website.
The easiest way to catch up on this or any other topic is to do a Google search and read a few articles that talk about it. But if you want to make sure to find good examples and stylish applications of the latest design trends, my recommendation is that you go straight to website whose design can be a source of inspiration. And this is what I have done to write this post: see what elements we find on the website of an iconic design company. So, let's go ahead!
Minimalist, Simple and White Space Design
All the pages of the Apple website are very welcoming, modern, simple, and clean, allowing the brand to showcase its products and make them the center of attention. Its main objective is to sell and advertise its products. And their designs have always been based on simplicity being the ultimate sophistication.
As for the web and with this same principle, we find a casual style, with extensive use of blank spaces and no elements that distract attention from the visual hierarchy.
Oversized Elements
The website has many oversized images that might even fill the whole screen. This technique helps the visitor to see and appreciate products in context, giving the feeling that everything is at their reach.
Frosted Glass Effect
The frosted glass effect is the semi-transparent and blurred appearance of the elements in the back. Apple uses it continuously when images disappear behind the menu when scrolling. It helps make the transition smoother and more pleasing to the eye.
Multicolored Gradients
Gradients are the gradual transitions from one color to another. We have been finding them on the web for a few years now. If before we found them with more intense colors, now we see them with soft colors.
This way of diluting the color creates a serene sensation in the audience and helps the contemplation of your message. Apple has not hesitated to use it to convey a security image when making payments via mobile phone.
Handwritten Typography
Although it seems to be a contradiction to the minimalism mentioned above, we have been seeing for some time now that typography is becoming an artistic element instead of a purely informative one. Adding hand typographies adds personality to the information and invites visitors to make them more involved in the image they are viewing.
Animated Typefaces
Once you see text as an artistic element, you can incorporate it into all kinds of animations with unexpected and surprising formats. Here is an example of how to convey a text message in a striking way.
Dark Mode
Never before has environmentalism been as important as it is today. So the trend of using apps in dark mode to save device power is becoming more prevalent on the websites of many companies, including, of course, Apple's.
The dark mode not only conserves the power of the mobile or tablet since the pixels are shown with less brightness, but also reduces user eye strain.
And as you may have notice in the image above, the dark mode invites the inclusion of images in a more vintage style.
Nelio Content
I'm so happy about Nelio Content that I will sound like a payed advocate… but here's why you'll love it: it works as promised, its auto-scheduling feature is top-notch, Nelio's value for money is unmatched, and the support team feels like your own.
Horizontal Scrolling
If you usually scroll the web vertically, had you though that horizontal scrolling is a very good option to show the detail of any product?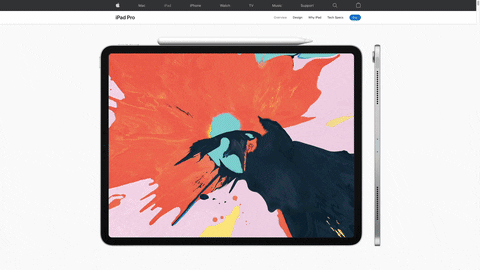 Animations with 3D Elements
And as you've seen in the previous GIFs, forget about boring pages without movement! Our visitors are no longer used to reading content, they are used to watching videos and having continuous movement. And Apple knows this for sure.
That's why throughout its website you can find all kinds of special effects and animations. They encourage you to keep surfing their website, resulting in an entertaining and enjoyable experience for your eyes.
Here are some examples of other animations that you will find throughout thier website: icon micro-animations, videos integrated into images, 3D effects, etc.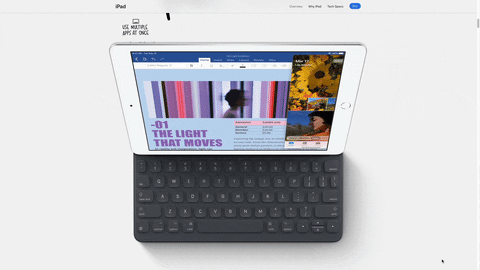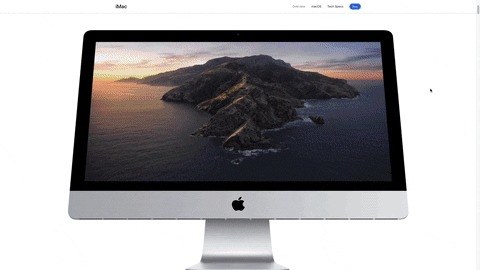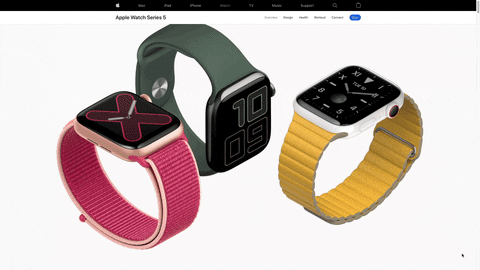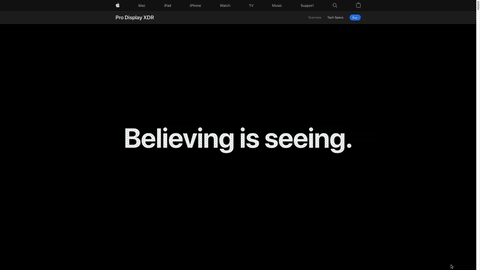 Conclusion
If you want to make your website attractive to your visitors, the Apple website is a good resource as a source of inspiration. Surely you do not have the resources they have to implement all the animations and other features they incorporate in their website, but having as a reference what it is to have good taste in design is always useful to improve your website.
Did you have the idea of adding large amounts of text explaining details about your products? Remember that an image or video can be much more enriching for a user. And don't forget about Apple's motto: simplicity is the ultimate sophistication.
Featured image by Alice Achterhof on Unsplash.