Translated by Núria Adell.
Whenever I talk to bloggers, I always see the same problem: you start your blog with enthusiasm and a lot of ideas, but as time goes on you start doubting whether you have anything else to say. You get stuck at a point where you don't know how to continue, what else to write… Do you already know what posts you're going to write in the next 2 months? No, right? You're running out of ideas to plan your editorial calendar!
You don't only face the problem of generating ideas when writing posts for your blog, but also when looking for new features to develop in a product, thinking new products to build, planning new marketing campaigns to create…
Our whole life is filled with new projects, tasks, and ideas that we want to carry out. But the ease we have to procrastinate can lead us to end up doing nothing at all. My recommendation: when it comes to finding new ideas, follow James Webb's process of generating ideas that I discussed last week. Adapting to the generation of ideas to write in a blog, the process is more or less the following:
Collect as much information that you find interesting as possible to help you generate new ideas. This information should be both general (news, events, etc.) and specific (related to the topic of your

blog

and your buyer persona).
Digest the information: analyze your notes from different perspectives and try to create new associations between them by creating partial ideas about what to write. Repeat this activity until you can't anymore.
Perform an activity that allows you to disconnect from the previous task.
Resume step 2 and the idea will arise by itself. Write it down in your

editorial calendar

(here Nelio Content can help you) and add the references and notes that will be useful to write your post.
Write and develop the idea turning it into a great post.
The recipe is very easy to understand, but not so easy to apply. You can already find a problem on the first step: how can I collect, save, and organize the information so that it can be useful later on? If you take the habit of writing down any new thoughts you have in a note or sketch book, where you collect your "bank of ideas", that's already much of the work done!
Collect Information
I'll start, therefore, talking about some online tools that can help you with this task of gathering information.
Price: Free.
I'm sure you're already familiar with the best-known application for taking notes and organizing them: Evernote. With it, you can take notes (written, images, links, articles, snippets, photos, audio) from any device. Whether you're working in your office, participating in an event, or attending a meeting, you always can save all your thoughts.
You can add labels to the notes (this can be useful if you take a photo and you want to label it for future use) and you can organize them in notebooks. What is also very quickly with Evernote is the extension Chrome Evernote Web Clipper for Google Chrome, which allows you to save texts, links, and images that you find while browsing with a single click.
Once you've got the Evernote app installed on your phone, any photo in your gallery can be easily added to an Evernote notebook with the share button. Also, you should know that Feedly can also be integrated with Evernote with a simple click.
Nelio Content
I'm so happy about Nelio Content that I will sound like a payed advocate… but here's why you'll love it: it works as promised, its auto-scheduling feature is top-notch, Nelio's value for money is unmatched, and the support team feels like your own.
Price: Free.
If you have Microsoft Office installed on your computer or you have an account on the OneNote site, a good alternative to Evernote is Microsoft OneNote. It's a very similar app to Evernote, with the most significant difference being that you can't store audio. But, hey, it's also integrated with Feedly ?.
#3 Your email service (Gmail, Outlook, …)
Price: Free (Gmail) or €135(Outlook).
Another alternative to save your ideas is to create drafts in your email account. Although I don't think it's the best way to store ideas, I recognize that I've created drafts before and saved them there as notes to keep them handy. In fact, it doesn't surprise me that it's many people's favorite. After all, Gmail or Outlook are tools that we constantly use, so there's no need to learn anything new; plus it's very easy to find what we need.
To take notes, a notebook and a pen can be, on many occasions, the most comfortable solution. In the same way, Google Docs can be your perfect blank sheet to save new ideas.
The great advantage of Google Docs, and the reason why I include it here, is its great utility as a collaborative work tool. In Nelio, we often use it as a brainstorming tool because, not only the information is shared at all times, but it also allows us to easily chat within the team by adding threads of comments in the different parts of the document. In addition, the fact that it's always saving versions of what is being written has also been very useful on more than one occasion.
Price: Free, Personal €4.99/month, Pro €8,33/month, Business €12,49/month.
If you're a more visual person and instead of lists of ideas you prefer mind maps (or, more accurately, concept maps), MindMeister will be a very useful tool for you. Mental mapping tools are especially ideal for schemes, brainstorming meetings, and being able to share them. With a simple glance, you can quickly visualize the most relevant parts of any subject or new idea that you have.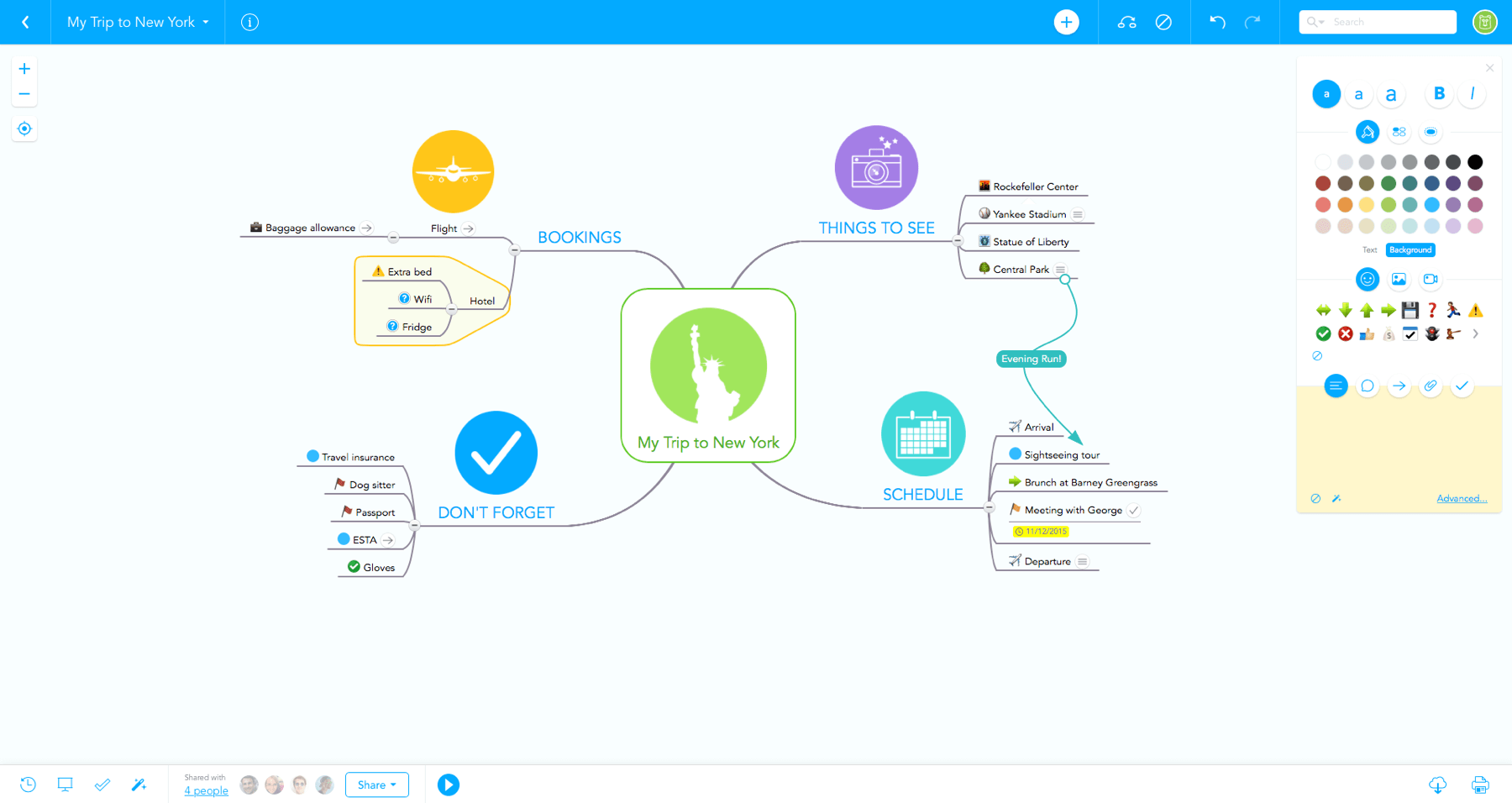 If your thing is apps that create conceptual and mental maps, here you have a list of the 10 best mind-mapping tools by Jacob O'Gara.
Trello is one of the star tools to keep lists of tasks to perform on a computer, and therefore, can also be very useful to save a list of ideas that you'd like to develop.
Written notes aren't always the best way to save your ideas. If the image is key to the type of information you want to store in your bank of ideas, a great alternative is precisely Pinterest. Why? Well, what could be a better tool to keep you ideas of decoration, architecture, design, fashion, DIY, art, artwork, photography, travel… than one that works with images? Remember that a picture is worth a thousand words.
In any case, apart from the use of the tools discussed, I would recommend having a notepad and a pencil at hand. You never know when you may need them.
Organize your ideas
If after deciding which tool to use, you've already started storing concepts, bravo! You've taken one of the biggest steps: taking the perceptions of your environment out of your head and conceptualizing and presenting them in a format (text or image) that you can consult at any time.
The most interesting thing about these tools is that, unlike a notepad, they allow you to classify, organize, prioritize, and relate ideas to one another. Do you remember the second step in the process of generating ideas that I told you at the beginning? Having your ideas organized and prioritized is also what allows you to be much more efficient and productive, as I mentioned on the different strategies to be more productive in your blog.
Finally, talking exclusively about the ideas that you want to write about in your blog, you don't need to make your life more complicated by looking at a lot of different tools. Our best one is the Nelio Content editorial calendar. You find interesting information on a topic and you think it could be a new post for your blog? It can be as easy as creating a draft post and adding the reference or any information you think of that can help you write your post.
As I have previously mentioned, in Nelio we try to have a plan of the input ideas that we'll write about a couple of months in advance. We may make some changes later on, but this plan allows us to organize ourselves well in advance, making sure that all posts are published on the scheduled date and that we never run out of ideas.
Featured Image by Galymzhan Abdugalimov.