This is the last post of 2020. A long and hard year, full of difficulties for many people, and totally unusual and unexpected. But also with some lights that we must not forget.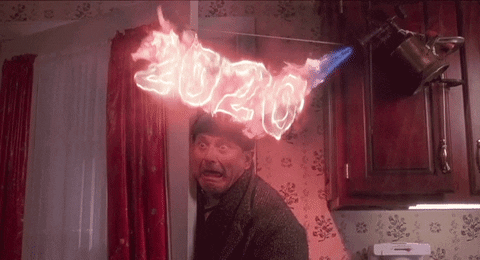 As has been common for quite some time, even though the current situation is still complex and uncertain, we cannot avoid taking a moment to recap everything we have done and lived in 2020 at Nelio Software.
Here are the summaries of 2016, 2017, 2018, and 2019 in case you are interested. It's interesting to read again the expectations David wrote about 2020 at the beginning of this year. When he said that "without a doubt we have a very busy year ahead of us", I don't think he even imagined what would come to us…
Working in the middle of a pandemic
This year we have only physically worked together in our office in the month of January. An ankle surgery (successful, by the way) caused David to take some time off in early February. Then the lockdown came in March, at least for us here in Spain.
In April, at the peak of the pandemic in our country, I also took a parental leave, although this was for a good cause: my first child was born! Therefore, being a small team the goal was that our temporary absence didn't affect our customers.
Luckily, everything went just fine during those months of less activity and we soon got back to work. David is fully recovered now and I do what I can (sleeping when you have a baby is quite hard ?). Since then, we've been doing remote work in 2020. Something that has not limited us to develop novelties for our existing products and even prepare the launch of a new one.
In short, the global health crisis has not affected us too much. Well, David hasn't been able to marry and celebrate his wedding yet, but he will do it as soon as he can. On the other hand, both we and our relatives are all fine, which is a blessing.
Will we physically see each other again in 2021 and work together in Nelio's office? This is something that nobody knows to this day. Meanwhile, we move on.
Our web in numbers
Let's review the most interesting numbers about our website, one of the most important aspects of our business.
Nelio A/B Testing
I was very impressed by the quality of this plugin, how easy it was to set up, and the outstanding support Nelio provides. I highly recommend Nelio A/B Testing.
Content publishing pace
Again, in 2020 we have maintained the same rate of publication as in recent years. We published 104 new posts. That's two per week, both in Spanish and English.
But this time it was harder because two of us were on leave a few months. But thanks to using our own editorial calendar with Nelio Content, everything is easier. We are never short of ideas to create new content that we believe may be of interest to you.
In any case, it is very likely that in 2021 we will slow down considerably since the imminent launch of a new product will force us to transfer hours of content creation to support and development. But don't worry, there will still be quality content here.
Feedback and comments
We love the feedback we receive through the web. Writing a post and receiving comments related to it is something that gives life to the blog and encourages us to continue writing.
This year 2020 we have received 140 comments. This is more or less the same as in the previous year.
In addition to comments on the blog, we frequently receive emails with feedback about our products. Thanks again for the time you spend installing our plugins, testing them, and giving us ideas to improve them.
The most popular posts
We have made a ranking with the 10 posts this year that have been most popular and that have brought the most traffic to our website. Here are the winners of 2020:
The technical posts in which we explain how to do things and the interviews are the ones that have had the most interest this year. In addition, they are the ones we like to write the most, since we also find them quite interesting to do.
We kept doing interviews
In 2020 we had the opportunity to interview important personalities from the WordPress world. The interview section is always complicated to do, since you have to look for interviewees and try to coincide with them to steal them a little time.
However, we love interviews because you always learn something from the interviewees. This year we have interviewed all these people:
To all of them, thank you! All the interviews have been published in a totally altruistic way. Each person interviewed has given us a little of their free time, which is not always a lot, so that all our readers can enjoy this section. Again, thank you for your help and support.
Participation in events
This year, most events have been canceled as a measure of precaution against the pandemic. For this reason, we have not traveled anywhere. But Ruth participated as a speaker at WordCamp Europe Online.
The WCEU online is the only event where we have had representation. We also attended WordCamp Spain Online, which was interesting. However, these online events made us miss in-person events. We think it is more fun to see people in person, meet friends in the hallways, comment news with other friends, visit sponsors…
It seems like we did that many years ago, but it wasn't so long that we were in Berlin for the last face-to-face WCEU. We hope that we can safely meet up with the rest of the WordPress community again soon.
Business Status
Let's comment on what we have been doing from Nelio's point of view as a company.
Nelio A/B Testing and Nelio Content
As you probably know, at Nelio we offer two premium plugins under a subscription model: Nelio A/B Testing and Nelio Content. The first is a plugin to create A/B tests in WordPress and the second is a plugin for managing blog content and promoting it on social networks.
We ended 2019 by commenting that we were finishing up a complete redesign of Nelio A/B Testing using React and taking advantage of reusable Gutenberg components. Well, we started 2020 by releasing the new 5.0 version of our plugin with a renewed and much faster interface, as well as improved internals.
In addition, we finally took time to include one of the functionalities most demanded by our clients: segmentation in A/B tests. Thanks to this, the customer base of Nelio A/B Testing has grown. We do not know if the growth could have been even higher had there not been the global pandemic, but we cannot complain.
Regarding Nelio Content, we also said last year that we were going to remake the user interface using React. Until now we were using Backbone, but given the adoption of React by WordPress, it made sense to update the interface of our editorial calendar using the experience gained by renewing Nelio A/B Testing.
In September we released version 2.0 of Nelio Content with all the changes. Now, the calendar includes filters to show/hide the contents and allows you to see the dates on a monthly basis, in two weeks view or just focus on a single week. We also added support for Google My Business, a request made by quite a few users, so that now you can post updates to your location on your Google My Business profile from Nelio Content.
Next release
Despite the casualties and pandemics, we have not stopped working. And the proof of this is that we hope to launch a new product soon: Nelio Unlocker. From the beginning of the idea until now, everything has been developed through video calls between the team.
Nelio Unlocker is a plugin that will allow you to convert any web page to WordPress, with the WordPress page builder of your choice, keeping the same appearance and without breaking or losing content.
That is, the plugin performs a scan of the original page and creates a similar one with clean code using the selected page builder. In this way, you can freely switch between CMSs or page builder avoiding the lock-in effect. Soon David will explain you a little bit more about this release. Stay tuned!
What to expect from 2021
Our main wish for 2021 is to overcome the global pandemic as soon as possible.
From a business point of view, we are looking forward to launching the new product to see its acceptance in the market. We have put a lot of love and hours of work into it and we believe that web creators and designers will love it.
So in closing, let me wish you a happy holidays season and all the joy and hope for the new year. Hopefully 2021 will bring us, not just the new normal, but what was normal back again.
Featured image by Kelly Sikkema on Unsplash.