2016 ended and, with so much work to do, were you able to renew your website? Or do you have it on your resolution list for 2017? Don't worry, we're here to help you achieve this?
Before starting with the redesign of your website, it's important that you ask yourself a series of questions to be clear on what you want to achieve with your new website, whether you're the one in charge of the redesign or not. You might decide you want a custom-made design, as we discuss in our proposal of website design or that you want your site from a predefined theme.
Choosing a predefined theme can be insane since there are thousands of templates available. Next, I will propose a selection of templates from the WordPress Repository and the most popular theme companies to save you a little bit of work?. As you will see, I have included a few examples of websites that use them so that you get an idea of the end result. I hope the post helps you get some inspiration for the design of your website!
The theme Responsive by cyberchimps is, with more than 100,000 active installations, one of the most popular free WordPress themes. This theme, as its name indicates, is totally responsive, adapting very well to all types of devices. Some characteristics of this theme are:
Nine themes per page
Eleven widget areas
Six theme designs
Four menu positions
It's compatible with WooCommerce, multilingual, prepared for WPML, gives support to RTL-Language and it's translated to more than 54 languages.
It also has a Responsive Pro version for $27 with many more functionalities.
Examples of websites that use the Responsive theme are: Trend Following, The Watch Group Company, Universal Music Group, Food Renovation or Trippel Trappel.
Customizr is a WordPress theme designed by Nicholas Guillaume with a free and a Pro version. There are currently more than 100,000 active websites that use it and it's one of the best valued themes in the Theme Repository of WordPress (4.9 out of 5 stars with 828 reviews). It's professional, versatile, totally responsive and easy to personalize.
Examples of websites using the theme Customizr: Lo más en la red, My beautiful skin, Fauna Natural, Territorio digital or Frozen Yogurt Reviews.
Nelio Forms
A fantastic contact plugin using the block editor. In its simplicity lies the true power of this plugin. I love it, very versatile and it worked perfectly for me.
Divi is the only theme by Elegant Themes and it's available as part of their package of 87 themes. It is a very popular theme thanks to its attractive design with more than 20 predefined page themes and a great variety of characteristics, including the tool to build pages Divi Builder.
This theme, as I mentioned in WordPress Use by Best Companies Inc. 5000 (2016) , is used by Elevate Services on their site. And also on Booking Agency, Brew Life, Doers Agency or Huplaapp, amongst others.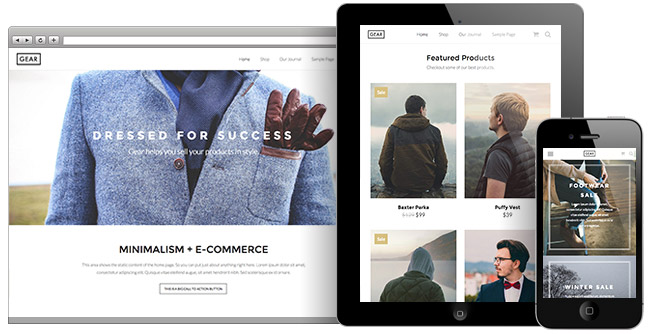 Gear by ThemeTrust is a WordPress theme for any eCommerce website with an elegant and minimalist style. Thus, as it's expected, it perfectly integrates with WooCommerce and it's designed to simplify the online sale of products. It's recommended for any shop.
On the main page you can present information of your products through different sections and slides with parallax shifting. Again, we're talking about a responsive theme that adjusts to any type of screen and device.
A couple of examples of sites using Gear: Failsworth Blues and The Trifted Dish.
OneUp by Pixelentity is a theme of a parallax page, totally responsive, adequate for any type of creative or business use. The theme is optimized for mobile phone and desktop platforms. It includes delayed loading of the pictures and the compression of all the scripts required.
Examples of websites that use OneUp: Wild Wood Media, The Dubai Tourism, Ferrerz Fitness, The Bankers, or Mandril Audio
6. Sahifa
The theme Sahifa is the theme designed for blogs or magazines that has been sold the most in Themeforest. The theme is highly configurable and it allows to configure, from the WordPress repository itself, the font, colour and layouts of the theme, allowing for the final design to be totally personalized and adapted to your needs.
On this link, 20 Impressive Websites Built With Sahifa WordPress Theme, you will find a good list of examples of sites that use this WordPress theme.
The theme Salient, designed by ThemeNectar, is also very popular, modern and multi-purposed. It's designed to give support to any blog and website, and it's especially ideal for freelancers or innovative studios thanks to its futuristic and modern design. Some characteristics that are worth emphasizing are its capacity to show videos as background and the reduction of the logotype and the headline as you start scrolling down the page.
On 35+ Stunning Examples of Salient – ThemeNectar's Top-Selling WordPress Theme – In Action or 30 Websites Using Salient Theme – Stunning Salient Theme you have many examples of websites using Salient.
One of the problems that many websites have with their content is the loading time. Genesis by StudioPress became very popular, amongst other motives, because it solved the problem with its lightness. In addition, Genesis is more than just a theme; it's a framework that simplifies the creation of new themes!
If you want to use a theme based on Genesis, first you have to install Genesis (the framework), then the child theme and finally, you can define the design you want to use. If you are a WordPress designer, the advantage of using Genesis is that once you understand how the framework works, changing theme becomes very easy.
On the website of StudioPress itself you have a Showcase which shows a series of websites that use Genesis.
Avada is one of the most complete themes of WordPress with more than 280,000 sites using it. It incorporates many options and tools to be able to create, with complete freedom, the design you want in order to make your site look like you want. It's compatible with the 7 most-used and best-known plugins: WooCommerce, WPML, bbPress, WP Easy Cart, BudyPress, Gravity Forms, Easy Digital Downloads and Events Calendar. On top of it, it's designed so that you don't have to fight with code. What else do you want? ?
If you're looking for examples of websites with Avada, you will find them on the following links, on colorlib.com have 30 examples and on winningwp other 25. In fact, you have an even more extended list in Avada Showcase Sites.
The theme X by Themeco is a multi-purpose theme. It comes with 4 predefined designs (stacks, not to be mixed up with the child themes): Integrity, Renew, Icon and Ethos, very different to each other and with which you can design your website very easily with a personalizing tool (customizer). It also includes a list of 21 plugins that are perfectly integrated.
You can find examples of websites with the X Theme in: 25+ Stunning Examples of Themeco's Top-Selling WordPress X Theme in Action, 25+ Beautiful Examples of Websites Based on the X Theme, or for a more complete list: X in the Real World.
So this is our selection of 10 WordPress themes that I'm sure you can use to create a fantastic new website for this year 2017.
And now, what are you waiting for to get to work?
Featured Image by Jason Chen.